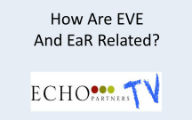 How is earnings at risk (EaR) related to economic value of equity (EVE)? The similarities may surprise you.
Earnings at Risk related to Economic Value of Equity
http://youtu.be/YL-MumL3C7w
Hi. I'm Howard Lothrop host of Echo Partners TV and today I want to talk with you about how economic value of equity is related to earnings at risk.
We spoke a few episodes ago about how you measure interest rate risk and talked about that the three main ways of doing so. Gap, earnings at risk and EVE.
The biggest difference between EVE and earnings at risk is the time horizon. Generally, even though you might look at a multiyear horizon with earnings at risk people are focused on a 12 month horizon, whereas with EVE you're looking at a very very long term horizon.
Here's the key: if you extend your earnings at risk simulation to longer and longer periods to fully capture longer and longer prepayment events and repricing events over time those multiperiod earnings at risk numbers will tend to approach your EVE results.
So what you might say is this is I think a really good way to look at this is that EVE shows you the very very long term results of earnings at risk given the banks current interest rate risk position.
Now it's important to realize that all of these measurements assume a static balance sheet and do not reflect changes in bank management or strategy. So of course they can all be taken for what they are and that is they are good indications of areas where we might have risk.
But they are also areas where management can make the biggest impact.
Thanks very much and we'll see you on the next episode