We are all familiar with the "80/20 rule", otherwise known as the Pareto Principle. Italian economist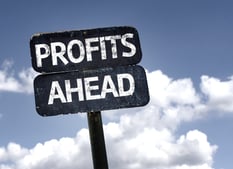 Vilfredo Pareto (try saying that 20 times quickly) observed in the late 1800s that about 80% of output is derived from about 20% of inputs.
Well, I can tell you that Pareto had nothing on bankers. In fact, if he was looking at community banks today he'd probably change it to the "90/10 rule".
As I noted in the headline, recent deposit profitability studies I have done have shown that 12% of depositors are responsible for 80% of deposit profits.
Even worse, if you looked you'd likely see that about 45% of depositors are responsible for 100% of profits...The other 55% don't even add a single dollar to the bottom line.
You can, and should, do something about this. The first step is to figure out which of your depositors are profitable, and which are not. You can do this using deposit profitability analytics. The second step is to start treating them differently.
One of the ways you can do this is by raising fees. But I caution you to make sure you know your numbers first. Otherwise you are apt to compound your error by penalizing some of your most profitable accounts.