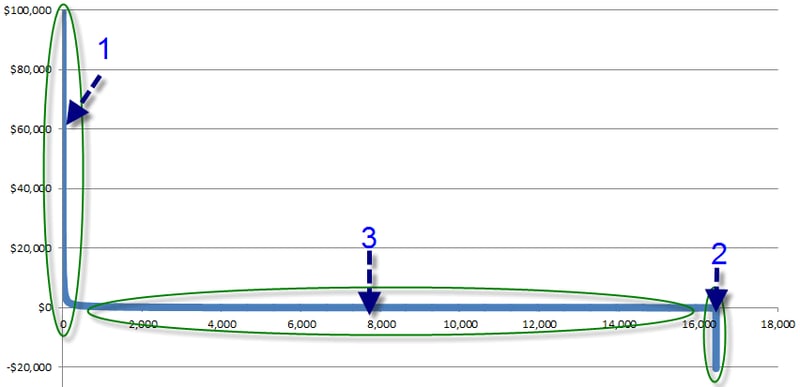 A picture is worth a thousand words…
…That's true with deposit profitability too. Especially when it involves how to translate deposit profitability numbers into more profit at your bank.
Take a look at this graph showing individual account profitability starting from most profitable to least profitable.
The 3 groups shown in the picture require very different handling. Let's go through them 1 by 1.
Group 1 on the left includes your very highest profit accounts. Not only are they individually very profitable but they aggregate into over 100% of your bank's total profit. You know how to handle them…Individual personal attention designed to further build your relationships. If you double their profit you will double the bank's profit.
Group 2 on the right is the other extreme. They are the handful of your largest individual money losing unprofitable accounts. They also require individual attention to uncover and correct whatever is causing their lack of profitability (often excessive, expensive transactions not properly priced).
Group 3 contains the overwhelming majority of all your accounts. They fluctuate from profitable to unprofitable and include a lot of marginal accounts. There's only 1 way to appropriately manage this many different accounts and that's via account type changes.
We'll talk about that next time.