They say a picture's worth 1,000 words. Take a look at this one that shows the rates-up 200 basis point economic value of equity (EVE) performance for all 6,240 FDIC-insured banks nationwide as of Dec 2015.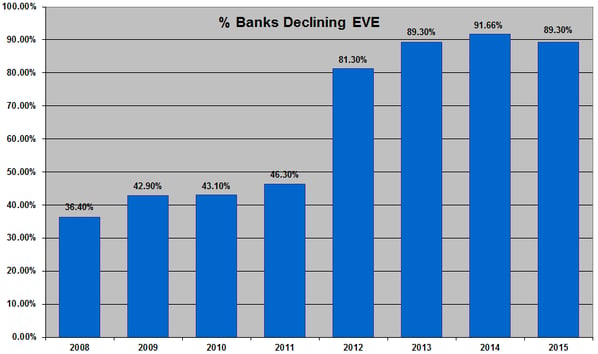 What we see is that 89% of banks show declining EVE in a modest 200 bp rate shock scenario. Now of course some of these results are very minor EVE decreases, but OVER HALF of these banks saw modeled EVE decline MORE THAN 15%.
In fact the only positive spin we can put on this performance is that 89.3% is actually an improvement!
So, how did we get here? What's changed since 2011?
The "good news", if you will, is that this EVE profile shift is completely explainable by changes in banking structure and strategy over the past few years. Here's what I mean:
9 out of 10 banks (notice a familiar statistic here?) reacted to the low rate environment by driving down their COF while reaching for higher yields to help maintain and/or stabilize their net interest margin.
The 2 main ways that this happened were:
Interest bearing liabilities (FHLB advances and time deposits) were reduced while NMDAs were increased.
Longer term assets increased (both floored assets that will be slow to reprice and actual extensions).
This is really textbook IRR 101 material. Longer repricing assets combined with quicker repricing liabilities result in increased interest rate risk, especially EVE. That's the "bad news", and that's why the chart above has become so lopsided.
So, as a banker, what do you do? If you implement standard A/L prescriptions (shorten assets, add long liabilities) you immediately reduce earnings and further decrease your margin. What's left?
Bankers are in a Catch-22 situation. Short NMDA average life assumptions mean bad EVE results, while longer NMDA average life assumptions can't just be plucked out of thin air.
The best solution is to extend the average life of your NMDA deposit assumptions, but to do that (and have your examiner approve) definitely requires a statistically significant deposit study.