Bank deposit pricing...This has all of the makings of a dog bites a man headline. We all know that banks overpay for deposits but we choose to ignore this fact. Well, here's the evidence.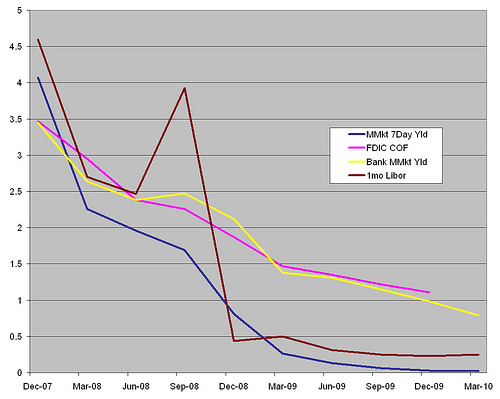 Take a look at this graph. It shows quarterly yields on money market mutual funds, bank cost of funds as reported by the FDIC, bank money market account yields, and one month LIBOR. As you can see, in the early periods until September 2008, all of these yields tracked closely together. Then, other than a temporary spike in one month LIBOR during the fall 2008 credit crunch, the market rates (money market mutual funds and LIBOR) fell sharply to near zero, tracking fed funds. Unfortunately, bank rates did not decline nearly as much as deposit pricing uncoupled from market rates.
A very interesting perspective on this graph comes when you consider the US Treasury's temporary guarantee program for money market mutual funds. This guarantee, established in September 2008, extended until September 2009. During this period, with the benefit of a government guarantee, money market mutual fund yields fell sharply and have remained at very low near zero levels even after the end of the guarantee program. Bank money market yields on the other hand, also the beneficiary of government guarantees through the FDIC deposit insurance program, have not declined nearly as much.
The money market mutual fund business is extremely competitive. Yet, in this extremely competitive environment near zero yields are the norm. This suggests that bank money market yields could easily fall more than 50 basis points, and still retain a pricing advantage.
So why aren't bank deposit rates lower? And what does this imply for banks' willingness to hold the line on raising deposit rates once tightening begins? Deposit pricing is one of the major management controlled drivers of organic interest rate risk and asset liability management. We need to get this one right.