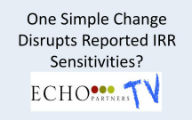 Reported interest rate risk sensitivities can flip upside down with this one single change. This is the first place to look when comparing asset liability model results.
http://youtu.be/88uc0Y9dcR4
Interest Rate Risk Sensitivities and Non-Maturity deposits
I am Howard Lothrop host of Echo Partners TV. I'm here today to discuss with you a question that I get, and sometimes don't get, from clients or prospective clients about asset liability reports.
Asset liability reporting is never done in a vacuum. Everybody has one, because of the regulatory requirement. Why is it that when you look at the report from one particular model and you compare it with a report from another model you might have vastly different results?
Well, the number one difference that you can make right now to change the reported asset liability sensitivity of your bank is to change the way you model your non-maturity deposit accounts.
Non maturity deposit accounts are the most undefined aspect of the asset liability report. Think about securities. They have stated maturities and payment windows. Loans have stated maturities and amortizations and prepayment windows. Same is true for CDs and FHLB advances.
But the one item on your balance sheet you really can't nail down that specifically are those nonmaturity deposits...Your transaction accounts or your money markets and savings accounts.
So here's my advice to you is if you look at an asset liability report and you compare to what you're used to seeing and the numbers are significantly different, the first thing you should look at are the assumptions, average life assumptions particularly, with respect to the non-maturity deposit accounts. Typically you'll see that the biggest difference there.
That's important because today virtually every asset liability model should do a high-quality job of reporting your interest rate risk sensitivities. So it almost always comes down to the assumptions, and the non-maturity deposit account assumptions, those are the most significant in your entire model. Get familiar with them, ask questions, and let me know what you think.
We'll see you on the next episode