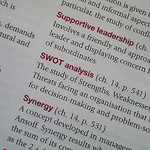 Pretty much everyone has heard of SWOT analysis. Even if you don't really know what it is, you've probably heard of it.
SWOT is an acronym for Strengths, Weaknesses, Opportunities and Threats. SWOT generally refers to a structured analysis looking at these 4 factors, as related to your bank.
So far, so good.
But what a lot of people miss is that there is a real division between these terms, and it boils down to internal versus external factors.
Strengths and weaknesses relate solely to internal factors.
For example, a strength might be a state-of-the-art, highly efficient operations center. This strength can lead to an advantage in processing or effectiveness in reaching customers.
A weakness, to give another example, might be a lack of cross trained staff that hobbles your ability to "right size" your branch staffing.
Here's the key distinction. Internal factors (strengths and weaknesses) are ultimately under your internal control.
Opportunities and threats, on the other hand, are both external and out of the bank's direct control. Here are quick examples of these.
A major regional bank restricting CRE loans due to a head office edict might well create an opportunity, while a new denovo competitor could be a threat.
One of the most common mistakes that I see related to bank strategic planning is when the SWOT analysis does not properly seperate the comonents into external and internal factors.
It sounds simple, but it's easy to miscategorize some items. Let me know if I can help.
If you're a banker, and you'd like a high-resolution, full size copy of my EPIC Bank Strategic Plan infographic, just click here and I'll send it right over to you, along with some other helpful materials.
Photo provided by pshegubj.