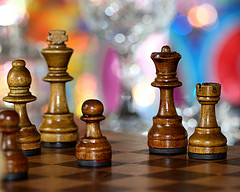 Have you ever heard about SMART goals? They're another strategic planning staple that can be easily misused.
SMART goals are goals that are:
Specific
Measureable
Achieveable
Relevant
Time based
We've all heard that you need to set goals to maximize your chances of attaining success. But all goals are not equal. And goals can sometimes ignore the realities of the workplace.
In fact, sometimes in the rush to get going we can actually set goals that are counterproductive to the overall big picture outcome.
The idea with SMART goals is that by setting goals in this specific fashion you are more likely to establish goals that actually drive you towards your desired outcome.
But here's the big secret...Unless you establish clear and detailed big picture overall goals first, and communicate them exactly, SMART goals can result in missing the result you are ultimately looking for.
If you're a banker, and you'd like a high-resolution, full size copy of my EPIC Bank Strategic Plan infographic, just click here and I'll send it right over to you, along with some other helpful materials.
Photo provided by Mukumbura