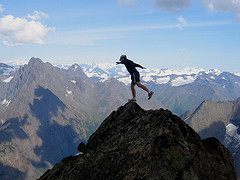 We wrap up our overview of the OCC Semiannual Risk Perspective report with a focus on economic value of equity (EVE) or long term interest rate risk.
You can read our earlier comments here and here.
With key concerns over longer duration assets and fear of increased rate sensitivity for non-maturity deposit accounts, it only makes sense to examine long term EVE interest rate risk.
The OCC offers a chart of historical EVE performance (provided by Olson Research Associates) showing a subgroup of bank EVE exposure to a 200bps rate hike, ending in Q2 2013. In Q2 the levels shown averaged a 24% reduction in EVE for a 200bp rate hike.
Based upon my own proprietary interest rate risk model, calculated for all FDIC-insured banks nationwide, the average EVE risk for a 200bp rate hike at September 2013 was 22%.
Remember, that's the average EVE reduction.
The riskiest 20% of all FDIC-insured banks at September 2013 had an EVE risk exposure (reduction in economic equity) in a 200bps rate hike scenario of greater than 33%.
How does your EVE risk compare?
Email or call me if you wish to discuss how to mitigate your risk exposures.
Photo provided by Paxson Woelber.