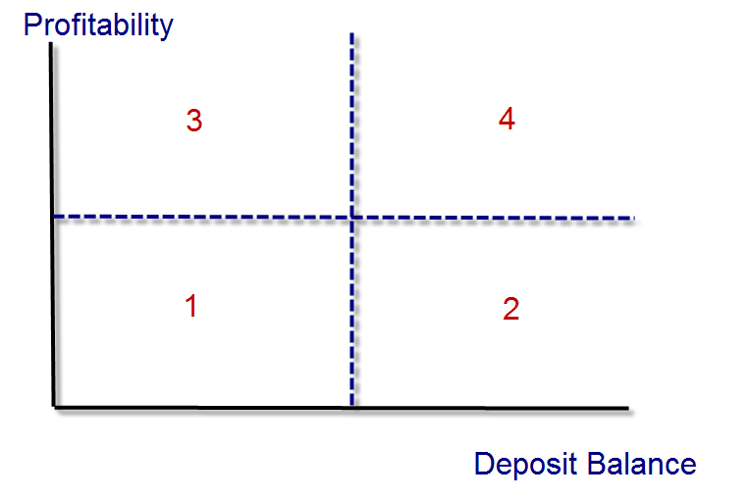 Do you know the "secret" to deposit profitability…?
…It's the "Four Ds" Method of segmentation.
It's simple and powerful at the same time.
Here's how it works.
Once you have calculated your #depositprofitability numbers, simply plot each deposit relationship on a 2 axis chart.
On the horizontal axis plot balances.
On the vertical axis plot profits.
Now divide the graph into 4 quadrants.
Q1 (lower left) has low profits and low balances.
Q2 (lower right) has low profits and higher balances.
Q3 (upper left) has low balances but higher profits.
Q4 (upper right) has higher balances and higher profits.
The performance of each quadrant can be improved based on their behavior.
The name "Four Ds" relates to the segment specific strategies that work best for each quadrant.
Q4 (our best accounts) is Defend.
Q3 (our bank's future) is Develop.
Q2 (the mystery quadrant) is Detect.
Q1 (our poor performers) is Decide.
That's it. That's all there is to it.
Just 4 simple quadrants leading to improved deposit profitability management. Sure, you could segment into more groups, but you should walk before you run.
Look at our article "Deposit Profitability Segments" for a more in depth look at the quadrants.