I was tempted to title this one "A Tale of Two Depositors" in a nod toward Dickens. You know, "It
was the best of times, it was the worst of times." But it's really all about knowing the score.
And there really is a parallel here given that community banks are struggling but have new and powerful tools at our fingertips to help bring us to higher levels of profitability and success.
But instead I'll just focus on an important way to immediately benefit from a deposit profitability and analytics program.
Imagine 2 customers walk into the bank lobby.
Customer 1 wants a price concession on a service.
Customer 2 wants an overdraft fee reversed.
Your CSR, or teller, or branch manager looks them up on the system.
Customer 1 has a collected balance of $15,000.
Customer 2 does not (since he got an overdraft notice, it's safe to assume that at least temporarily customer 2's collected balance was negative). Let's assume customer 2 averages a collected balance of a modest $1,000.
So what's the right thing for the bank rep to do?
The obvious answer is to give customer 1 the price concession and to decline customer 2's request for a fee reversal. But it's not always that simple, is it?
I'm guessing you knew I was going to throw a twist in here. Well, here it is. Do you remember this graph from the Deposit Profitability Segments article?
If not, go back and read it right now. We'll wait for you.
OK, now let's proceed. Here's the graph.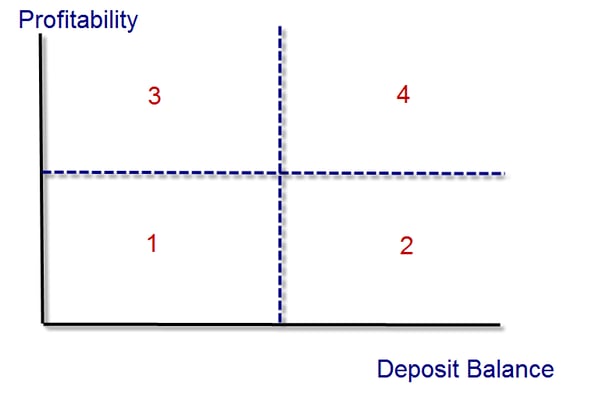 Here's where it gets tricky, but interesting.
What if I told you that customer 1 was in Quadrant 2?
Oh sure, he has a big balance but we aren't really making any profit from him. Do we really want to make his profitability worse by caving in on a price concession? I don't think so.
What if I told you that customer 2 was in Quadrant 3?
No doubt he has a tiny balance, but we are actually hitting our profit targets with him. Maybe throwing him a bone by waiving the OD fee is exactly the right thing to do?
Of course, your bank rep wouldn't know that without a deposit profitability analytics program, so you woul dprobably get this wrong. But here's where it gets even simpler, faster.
As soon as you run those month 1 deposit profitability numbers, we can assign the quadrant number (or score) to each and every deposit relationship in the bank. Just put the score in as a new field in your CRM.
You can do it both on an individual account basis (not reccomended) or an an aggregate CIF basis (reflecting the totality of the deposit relationship).
By including the score on the customer's screen, and not just the balance, you arm your employees to make better decisions starting that very first day.
See how easy, and impactful, this can be? And that's just the start.