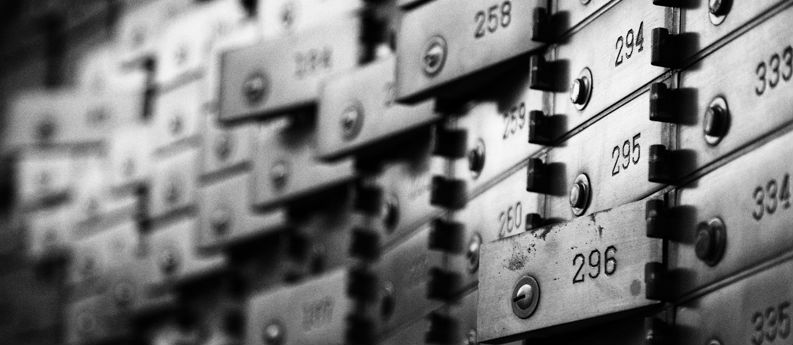 This is Part 1 of a 3-part series on the benefits of getting your own deposit study:
Part 1 - [You Are Here] - How We Reduced Reported EVE Risk Up to 30%...(or More!)
Part 2 - 3 Steps to Time Bucket Your Deposit Average Life
Part 3 - Get Better Deposit Study Results...With Less Data
How would you like to turn this EVE profile...

...Into this EVE profile...

...All without changing your balance sheet?
Here's the thing...
Most of the criticism and advice you've been getting about your EVE risk is DEAD WRONG.
I know this because I calculate interest rate risk statistics (including EVE) for thousands of banks nationwide (in fact, for EVERY FDIC-insured bank)... and I test EVERYTHING!
And I've uncovered the quickest and easiest method to cut your reported EVE risk up to 30% or more!
Here's my disclaimer: I obviously can't promise that you will get these results at your bank. Your results will vary due to a multitude of factors.
But I owe it to you to tell you about my discovery.
And you owe it to your bank to look into this strategy right away.
I started off with all the traditional methods to reduce EVE. You know...shortening my asset repricing and lengthening liabilities.
But the problem was that everything I did to reduce EVE also cut earnings and margin. And in today's environment that's simply not acceptable.
So I started experimenting with other methods.
In this article, I'm going to reveal the method I used to achieve up to 30% and greater reductions in reported EVE risk for community banks nationwide...Without changing the balance sheet.
This is the same system I teach in much greater depth in my deposit study video series. If you have any significant nonmaturity deposit account (NMDA) balances, you will definitely want to be part of this training because you stand to benefit the most.
As I mentioned, I started reducing EVE the way the so-called gurus teach...it didn't work. Our margin and earnings were crushed.
So I started breaking their rules. I started testing.
In the end, I developed my own system.
Here are six ways I broke the rules and transformed EVE reduction into a quick and easy endeavor.
1) I Listened to Bank Regulators
Banking is a heavily regulated business and I treat it as a regulated business. That means spending time reading and understanding what our regulators are telling us.
And the only thing they're talking about as much as EVE are bank-specific assumptions...particularly NMDA assumptions like decay and beta. For example, these comments don't leave a lot of doubt about whether or not your regulator is focused on bank-specific deposit assumptions.



So I decided to kill 2 birds with one stone and combined my search for EVE reduction with cracking the bank-specific deposit assumption code. And guess what happened?
I found that almost every bank I examined significantly improved their EVE risk profile (up to 30% risk reduction or more) when they implemented a deposit study and calculated their own bank-specific deposit assumptions.
Now, in retrospect, this makes sense. The reason it works is that most banks have a very short and conservative set of assumptions, especially deposit assumptions. And that's just fine...until you start to attract some regulatory attention on interest rate risk. Then it's definitely in your best interests to extend those deposit assumptions if you can document and support the change
(By the way, I talk more about how the actual extension process plays out in this post about the "3 Steps to Time Bucket Your Average Life"...)
So when we actually run the numbers, do the math and plot out all the statistics we find that almost every bank can quantitatively, statistically and scientifically support longer and more EVE-friendly NMDA assumptions.
And, as you'll see in a second, if you follow our model you'll actually get better results and you'll also be doing less work than most.
Let's see...less work...better results?
(I talk more about getting better results with less data (and work) in this post "Get Better Deposit Study Results With Less Data"...)
First, let's talk about the mistake I made with my deposit study design and how I fixed it...
2) I Went "Simplistic"
You've probably been told that a "complex", "highly detailed" and "sophisticated" deposit study was the best (only?) way to go, right?
Well I heard the same thing, which is why this was the very first type of deposit study design that I tested when I first launched this project.
Mountains of data, detailed account transaction histories, complicated statistical techniques focused on tracking and analyzing every individual account...and every individual deposit type.
But there was just one problem....Well, three problems actually.
No one except a PhD could make it work.
No community bank had the reams of data and info in just the right formats all clean and neat.
The detailed focus actually made the results less useful
Have you ever heard of the Pareto principle? You know, the old 80/20 rule.
It certainly applies here. I discovered you could get the overwhelming majority of the deposit study benefits from just a small fraction of the work. That's the beauty of simplicity.
So I focus on the forest, not the trees. Here's how...
I call it my "Core Four". They're the 4 basic NMDA types that virtually all community banks have, and that our deposit study approach is designed to provide.They are:
Non-interest bearing checking
Interest bearing checking
Money markets
Savings
Now don't turn your nose up at the straightforward approach. It works, which is the key factor.
Plus, once you've created the "Core Four" study you know exactly how to extend the study later into more detailed areas, if (and that's a very big "if") the benefits outweigh the extra efforts.
But get the basics down before you try to do too much.
So, I have a question for you...
"Would you rather have a well-documented and supported (complete!) deposit study based on the "Core Four" (which will likely pay big and immediate EVE dividends) or would you rather have an incomplete plan for an expensive study that is overkill for a community bank?"
Choose your answer carefully, because you may not be able to have both...
This one was a biggie, but believe it or not this next change had an even bigger impact on my deposit study plans...
3) I Didn't Crave Detailed Account Level Deposit History...In Fact I Did the Opposite
One day I walked into my office and proclaimed that detailed individual account-level deposit studies were now obsolete. This may sound a little extreme, but I'm not going to continue doing something if it obviously isn't working for community banks.
Don't get me wrong. There are some banks who can deliver all the pristine data sets, scrubbed and tidy for statistical gymnastics, and benefit from complicated and detailed individual account level deposit studies.
It's just that they tend to be big banks (north of $35 billion assets) with huge staffs teeming with number-crunching armies of analysts...And that's NOT who I work with. Because the reality is...
Community Banks Don't Need More Complexity
I'll say it again. Community banks do NOT need more complexity.
Instead, what community banks need (and value) is a trusted authority who will organize and aggregate all the GOOD deposit study information that's actually worth reading into one place. And who will roll up his sleeves, get down and dirty, and get busy helping them make progress.
And this concept is nothing new. In fact, it's the exact same value proposition you deliver to your clients every day when you help them get the banking service that's right for them.
Do you see where I'm going here? Finding a better way that works for you is what this is all about.
And here's what I found...Instead of focusing on individual accounts (with all those extra privacy concerns) focus on the entire pool of accounts that makes up each of the "Core Four" line item deposit types.
Not only is it easier and quicker, but it's a proven technique recommended by your regulators.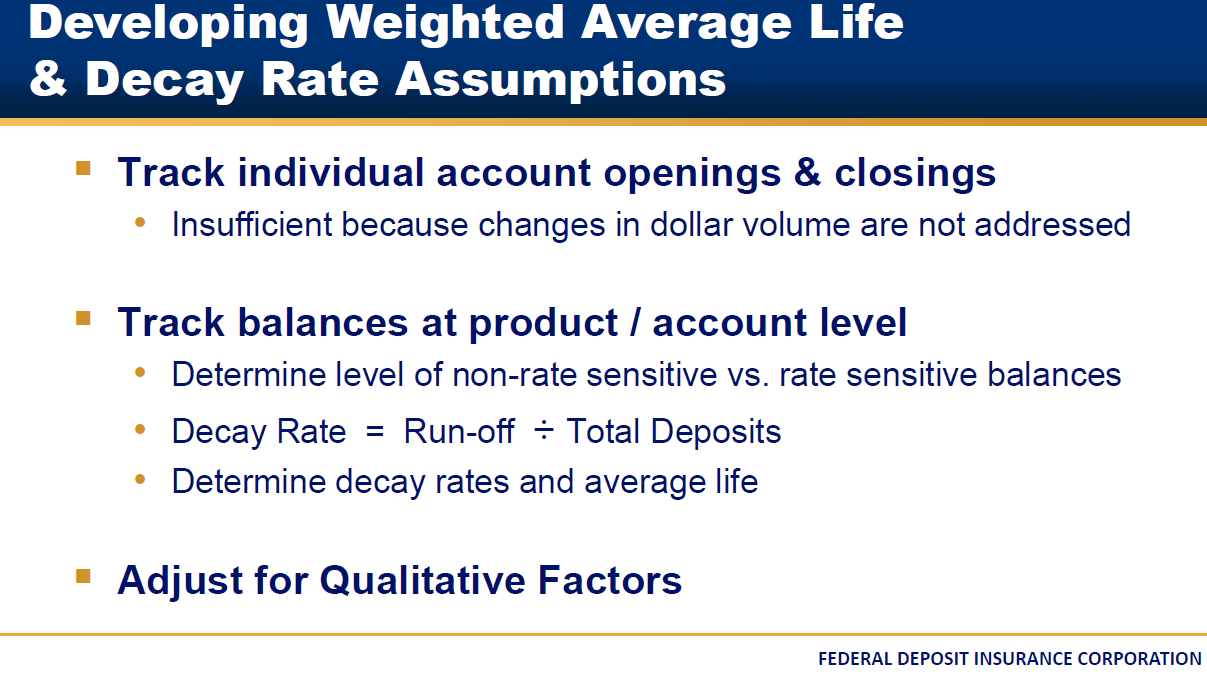 That's right, the approach they recommend is to track balances at "product / account" level. And that's exactly what you should do.
I talk more about exactly how we handle the data in this post about how we "Get Better Deposit Study Results...With Less Data"... .
And you can get all the details on how we put the deposit study together in my deposit study video series, or if you're ready to move forward now and make a commitment to improve your bank's deposit assumptions and IRR results just skip straight to the Deposit Study Planning Session.
So that covers the first three steps, but the next one gets into how I can be so sure that you can create this exact same result at your bank...
4) I Focused on Building Templates
Here's the biggest secret to guaranteeing your success: STOP reinventing the wheel!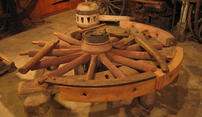 You see, I've already figured this out. We do deposit studies for all sorts, sizes and shapes of community banks nationwide.
Guess what: They're really all the same.
Sure, the numbers differ and the mix varies, but the key steps remain the same.
So instead of letting you struggle with "What to do next" on your deposit study, I decided to standardize and templatize all of my deposit study steps.
No need to blindly stumble in the dark when we can quickly and easily use my templates to deliver proven success to you and your bank.
When you think about it, it's really a no-brainer.
5) I Gave My "Secrets" Away...For Free
It might shock you to hear this but...
Most community bankers WILL NEVER purchase ANY deposit study solution.
And that's okay.
Giving my deposit study approach away for free like this is the best way to reach the largest number of community bankers with this important news. News that can totally transform their bank, and their relationship with their regulator.
You see there are really four groups of community bankers to reach with this sort of information:
Those that will read about it and do nothing;
Those that will read about it and try to do it themselves;
Those that will do it themselves but know they need some guidance; and,
Those that don't have time or staff to do it themselves so they want it done for them.
And the good news is that spreading the word like this helps all 4 of these groups meet their needs. Because they all need to learn more.
This 3-part series is far from the last you'll hear about this topic.I'm going to be posting more information, which you can sign up to hear about.
I'm also planning a book on community bank deposit study techniques, so you'll be able to learn more.
I have a free deposit study video series that you can signup for right now,.
And finally, if you're ready to move from learning to doing, you can skip right to my community bank Deposit Study Planning Session if you wish.
But what about those bankers that don't have the time or staff to do it themselves? Just email me directly if you want to see just how affordable it can be for me to actually do your deposit study for you. Quick and painless.
So you see, we really do have something for everybody when it comes to deposit study training.
That's the beauty of having a sharing mentality when it comes to "How We Do It". It's the most effective way to reach the absolute most community bankers and actually get things done.
6) I Optimized My Methods for Community Banks
Maybe you've been told that you need to fit your "square peg" community bank into a big bank complicated "round hole" deposit study.
Wrong.
We all know that community banks have different cultures, and different needs, than bigger banks. It just stands to reason that we'll have different deposit study needs as well.
So I carefully adjusted my templates. I revised my algorithms. I tested my templates with community banks of all sizes...from less than $100mm to multi-billion $+ community banks.
Just so I could be certain that I could say...
"It Will Work For You."
You see, if your deposit study approach doesn't fit your bank, then all the time and effort you invest in organizing and laying out your deposit info is a complete waste of time...you're just rearranging the deck chairs on the Titanic, so to speak.
Even worse, you might lock yourself into an expensive multi-year service that won't even give you what you really want in the first place.
And it certainly won't let us easily extend your study as you grow more comfortable with the tools and techniques that I deliver.
But if you follow my approach we'll deliver a complete proven quick and easy deposit study in less than 30 days. You'll also be prepared when we expand your reach over time...at a significantly reduced expense.
You see, I understand that it's not enough for you to know that I can create a community bank deposit study.
Nor is it enough for you to know that I can create deposit studies for other banks. It's not even enough for you to know that I can train other bankers to use their own deposit study that I deliver to them.
What's really important is that you come to learn and understand that...
... I can help YOU to quickly and easily obtain a deposit study for your bank.
There are a lot of articles out there that talk about deposit studies. My trainings show you how to get your own deposit study...And how to get the right one
Click below to:
Sign up for our deposit study video series.
or
Schedule your Deposit Study Planning Session
(Photos provided by Chewy734 and Crispin Semmens )