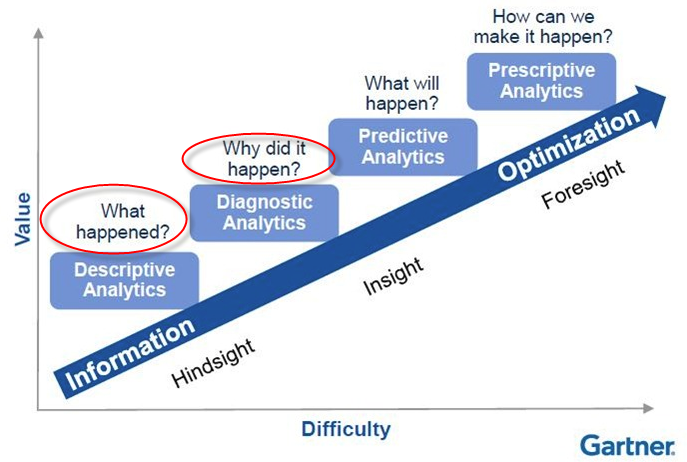 Most bankers get analytics wrong…
…Because they start at the wrong place. Here's how you can avoid that mistake.
Bankers are high achievers so you naturally want to jump into the advanced material. Stuff like "What will happen?" and "How can we make it happen?"
Don't do it.
Look at how Gartner describes their 4 stages of analytics (going from least difficult to most difficult):
Descriptive: What happened? This answers "Who are our best customers?"
Diagnostic: Why did it happen? This identifies specific behaviors that make them our best customers.
Predictive: What will happen? Given these particular customers and behaviors what happens when we change something? That's an important, but advanced, question.
Prescriptive: How can we make it happen? Creating behaviors is the Holy Grail, high value but highly difficult. Get it wrong and you've just (expensively) created more problems.
So where should we start? At the beginning of course. Everything rests on identifying exactly who are our best customers and why they are our best customers.
Deposit profitability identifies your best customers and creates instrument-specific P&L statements for each and every account relationship. This lets you uncover and segment the particular behaviors that drive profitability.