Do you know the best way to avoid regulatory criticism?
It's a simple answer really...Just do what your regulator tells you to do, and stop doing what he tells you not to do.
If there's anything that will get your regulator all lathered up it's when he tells you what NOT to do and you do it anyway.
In fact, the only real problem is keeping up with the rapidly changing communications from the regulators. Unfortunately, "ignorance of the law" is no more a defense with your regulators than it is in the courts.
Well I'm going to make your job just a little bit easier by showing you an easy-to-miss bit of oh-so-simple regulatory guidance that casts doubts on the non-maturity deposit account (NMDA) modeling process used at many community banks...
And it's actually built into many common or popular community bank IRR models.
It's called the retention method. You might see it referred to as the closed accounts method, or the "deposit age" method.
It can even go by a number of other names, but here's how you'll know you're looking at a regulatory problem...the calculation of your NMDA deposit decay rate, duration or average life is based directly or indirectly on the number of accounts remaining open or closed since a starting date.
And the FDIC says it's "insufficient".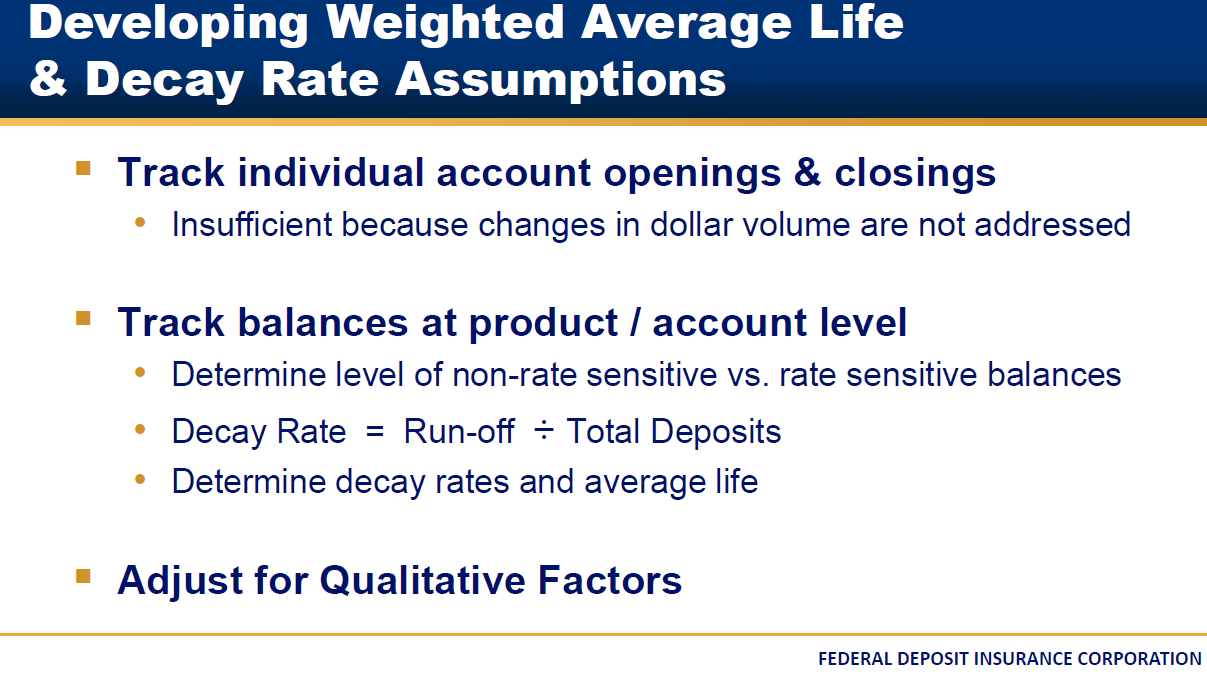 "Number of accounts" is the giveaway phrase that lets you know your bank IRR is a walking, talking regulatory timebomb.
There's even a variant where the model uses account balances in dollars, but only to determine the weighted average account open time. And that's just as wrong as using closed accounts themselves.
So what's a community banker to do?
Check your NMDA assumptions in your IRR model without delay.
Stop using retention or closed accounts methods.
Change from a "backward looking" longevity method to a "forward looking" balance decay based method.
Let me know if you have NMDA deposit study questions.
You are calculating your own bank specific non-maturity deposit assumptions, aren't you?
Please don't delay addressing this issue. Bank specific assumptions are a very hot topic right now and your regulator only has so much patience in dealing with willful guidance violations.
Ready to get started?