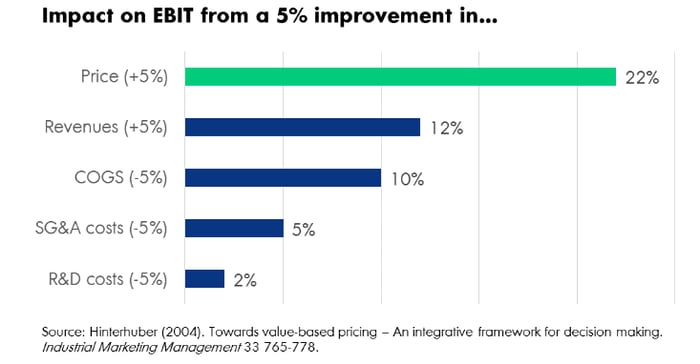 Price is a profit multiplier.
Deposit profitability is all about properly pricing your services. If your bank is not making p
rofits (or at least breaking even) on deposits then you need to increase your prices.
The nifty thing about prices is when we raise prices we multiply profits….Multiply, not add. That's because most of the price increase goes straight to the bottom line. You're already covering your costs.
Here's what a study of Fortune 500 companies found when they examined the impact of 5% improvement on various P&L components:
Impact on EBIT from 5% improvement in…
Price up 5% = 22% EBIT gain
Revenue up 5% = 12% EBIT gain
COGS down 5% = 10% EBIT gain
SG&A costs down 5% = 5% EBIT gain
R&D costs down 5% = 2% EBIT gain
To translate for bankers, raise your prices and quadruple your profits.
The next best improvement comes from adding new revenue (more loans) and while it's good (12% profit gain) it's a whole lot easier and quicker to raise your prices.
When we say prices on deposits people usually hear fees. But that's not the only price component. Deposit prices may also be stated in terms of minimum balances, items allowed or other transactional limits. Get creative.
Here's the key point: You've got to measure deposit profits to manage them.