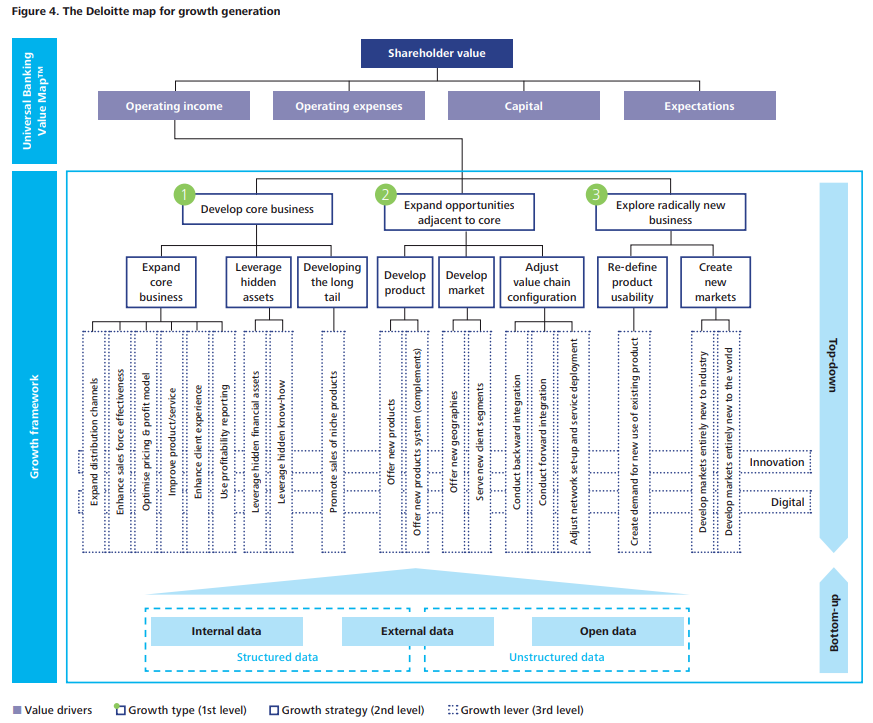 Want to grow your bank? Would you like a map?
The Deloitte Growth Map shows where deposit profitability (and everything else) fits in.
When seeking bank growth, different strategies fit into 3 main buckets:
Develop core business
Expand opportunities adjacent to core
Explore radically new business
Complexity increases as you shift from left to right on the map. Expanding the core business is typically much more certain than creating new markets.
Deposit profitability directly impacts 3 of the 6 core business strategies.
Optimize pricing and profit
Enhance client experience
Use profitability reporting
Arguably you could also include enhancing sales force effectiveness in the #DepositProfitability mix.
Note the difference in data shown at the bottom of the map. Structured data and data beginning to bridge the gap from internal to external sources form the backbone of deposit profitability. Another sign you're in the right place.
While deposit profitability touches all the right parts of the #Deloitte Growth Map, it has another key characteristic. It results in direct and recurring boosts to your annual profit. Typically the biggest profit boosts you can reasonably identify within the bank.
What are you waiting for? Explore growing your bank now that you have a map.