Do you remember the Bruce Lee Kung Fu movies? I do, and they have a lot of lessons for all of us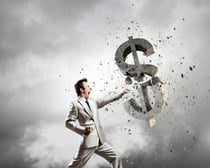 bankers.
Here I'm talking about deposit profitability analytics. And you might not immediately recall that scene. But it's there.
Bruce Lee said " I fear not the man who has practiced 10,000 kicks once, but I fear the man who has practiced one kick 10,000 times."
Bruce Lee used his mastery, gained from tens of thousands of repetitions, to dominate his opponents using only a few moves.
In a similar way, you can use your mastery over deposit profitability analytics and calculations to dominate your competition as well.
Just use Bruce Lee's gameplan. Instead of doing a lot of one-off or ad hoc analysis, hone in on one specific area (I'm suggesting deposit profitability) and apply it to all of your deposit accounts and relationships.
With most community banks having tens of thousands of accounts and relationships, each of which must have profitability calculated monthly, it won't take too long to get skilled. Especially when you consider that these same accounts will probably have hundreds of thousands (or even a million or more) monthly transactions for you to process.
The fact is, much like Bruce Lee's opponents, your competitors probably won't put in the time or effort to master this tedious and daunting task. Just like how, up to now, the "big banks" have profited from their willingness to do this while you did nothing.
But that will only make the taste of victory so much sweeter. Contact me to learn more about how you can do this at your bank.