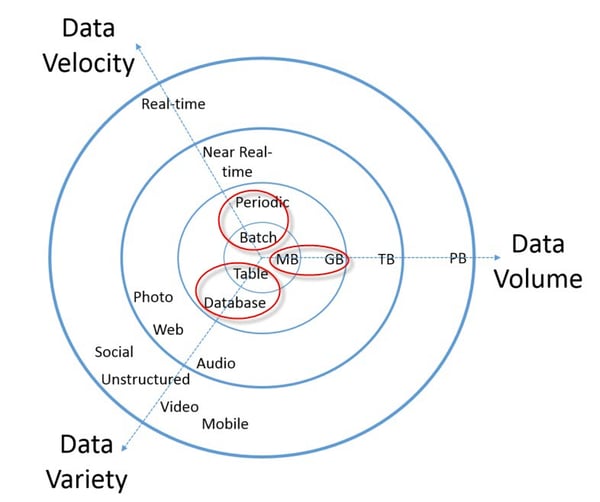 Why you should reject "Big Data"…
…And start with "Little Data".
There's lots of buzz about big data in banking. It's a sexy topic but way too advanced for beginners. My advice: Start small and work your way up.
Gartner developed their "3 Vs" of data to explain this concept. Visualize a 3 axis graph with each "V" having its own axis. Each axis starts with easy and grows more complex as you get further from the origin.
Variety: This refers to the structure of the data. Start with highly structured data from a table or a database. Don't jump into unstructured social media data to start.
Velocity: Velocity is all about the timeliness of the data. Start with batches or periodic data that matches your reporting periods. Don't try to tackle real-time data.
Volume: Volume is the sheer quantity of data. Start with the drinking fountain, not the fire hose.
Deposit profitability is a "Little Data" concept that lets you get your feet wet in a high-ROI data project.
Starting with all 3 "Vs" near the origin, seeing the profits materialize, and gaining familiarity with data projects will set your bank up for success.
Just like any new skill, starting with the basics prepares you for future complexity. Don't try to start with the advanced class. Start at the beginning.